Do you know what are Signed Jewels? What is a Maker's Mark, and who made them? Where are they located? How do they affect the value of jewels?
Well, I am delighted to share the answers to all the above questions. My article on Signed Jewelry is in collaboration with Bonhams Jewels; we have, Emily Barber, Director of Jewellery UK, Bonhams Auctioneers, sharing her expertise with us.
Renu: What are Signed jewels?
Emily Barber: Signed jewels are jewels that bear a signature in full or a maker's mark from the jeweller that made them.

The marks are often very small and engraved or stamped on inconspicuous areas of the metal, usually on the sides or back of the jewel.
Sometimes, they also have an engraved inventory number which can be traced back in the archive of the jeweller that made them, revealing the exact date they were made, the client they were made for and the numbers and carat weights of the gems incorporated into the jewel.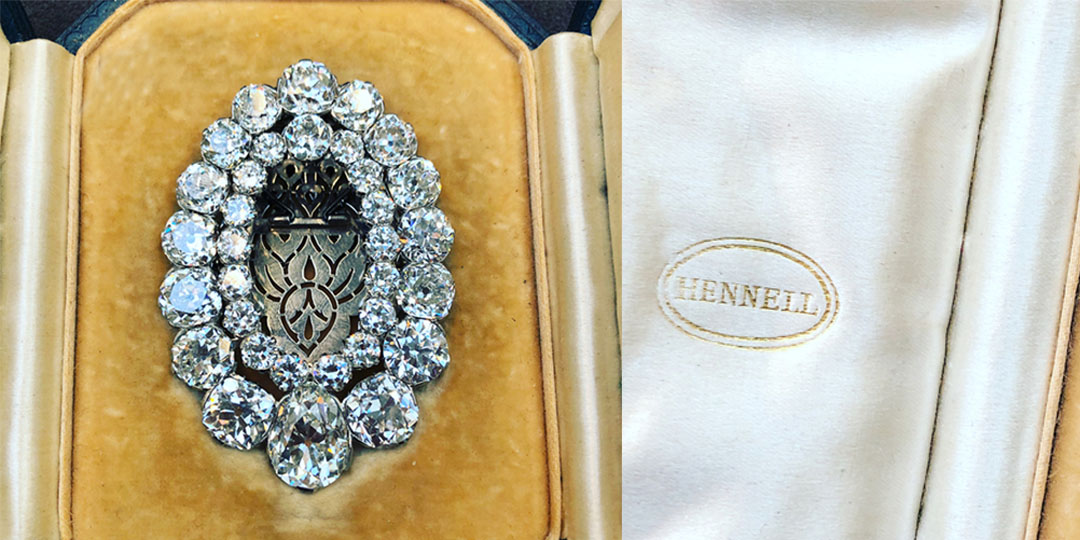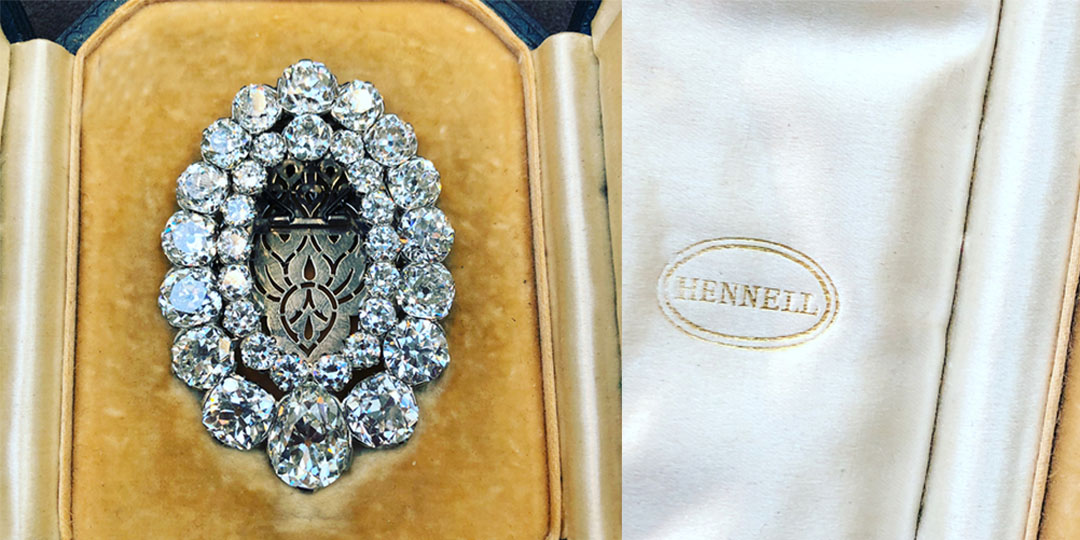 A Diamond clip brooch by Hennell, circa 1930.
Renu: Are signed jewels more valuable vs unsigned jewels?
Emily Barber: Yes! Deciphering the marks can lead to a positive attribution of a jewel to a jewellery house or jeweller and this can add a large premium to the selling price of the piece. To find an original, intact, surviving jewel from a particular period in history, with the added bonus that it was made by a master jeweller, makes it an incredibly rare and valuable work of art.
Its value is not just in the gems but also in the fine workmanship and innovative design and the name. Worldwide, desirability and market trends drive the prices. Signed jewels sold at auction are more valuable than unsigned jewels.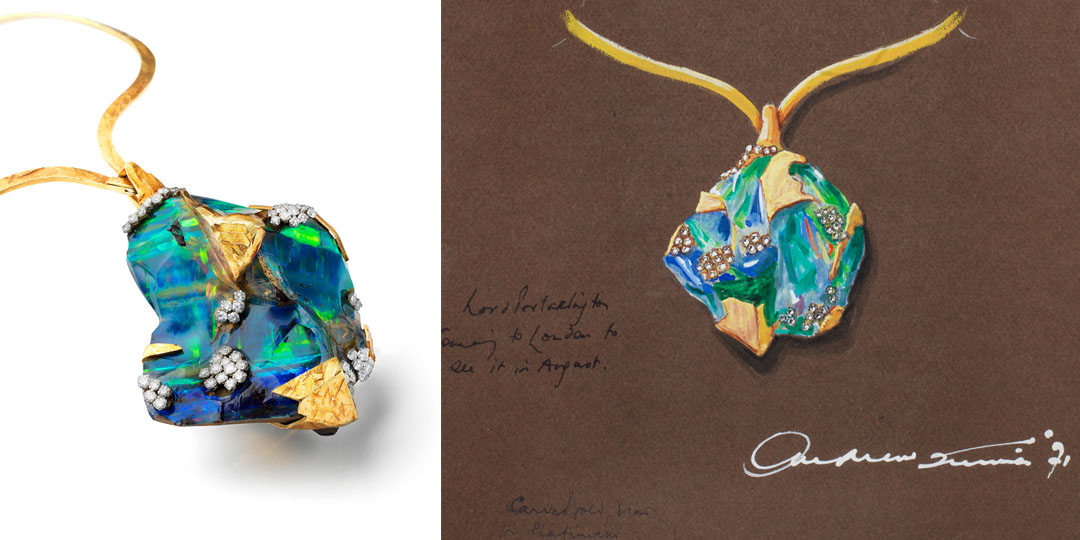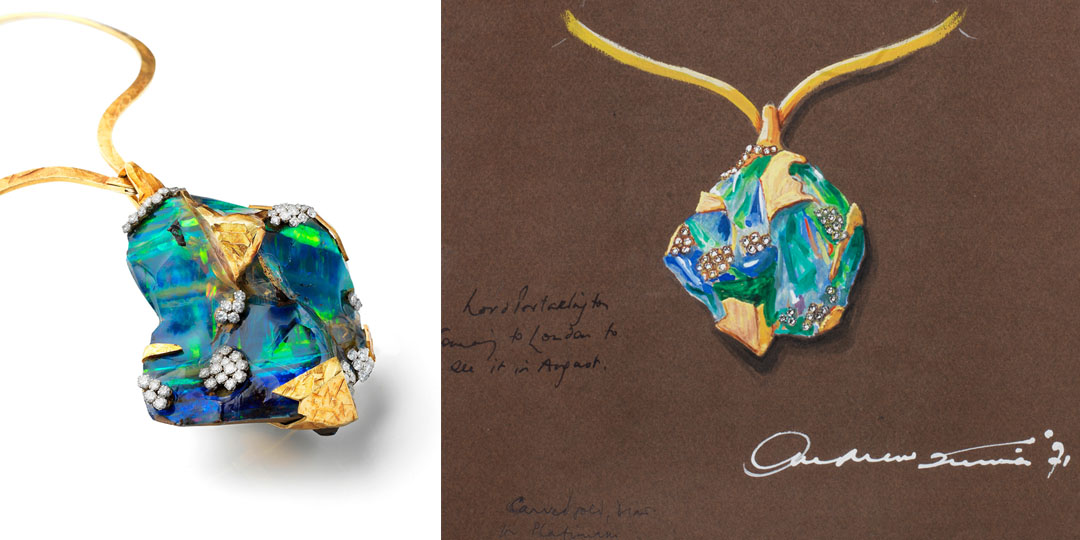 A Gold, Boulder Opal and Diamond Pendant/Necklace, by Grima, 1972.
Renu: I would like to know are all Signed Jewellery Collectable?
Emily Barber: The famous heritage brands such as Cartier, Van Cleef & Arpels, Boucheron, Tiffany, Chaumet, etc, are perceived as jewellers par excellence, who consistently push technical boundaries and produce jewels of superlative manufacture set with the finest gems.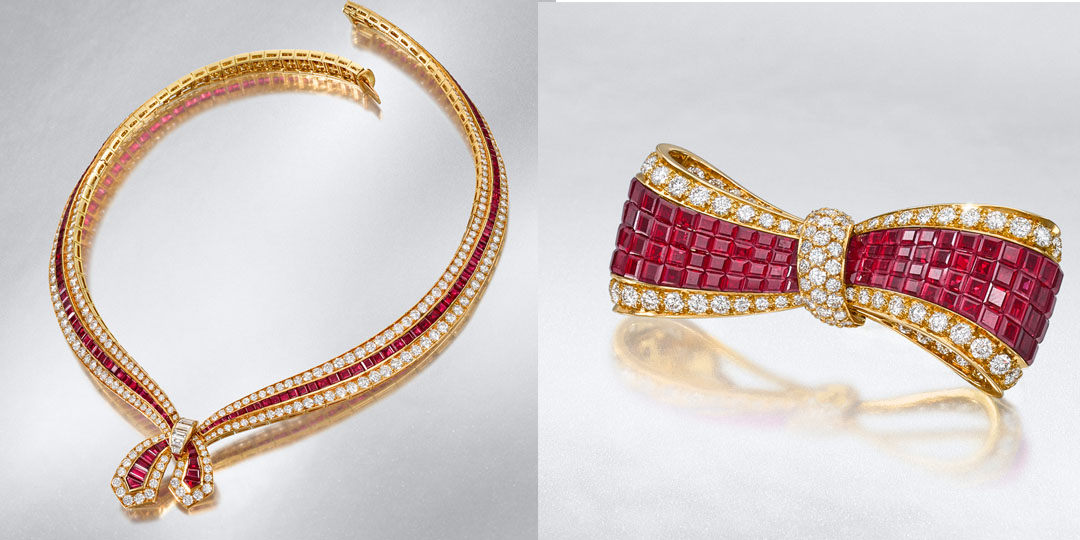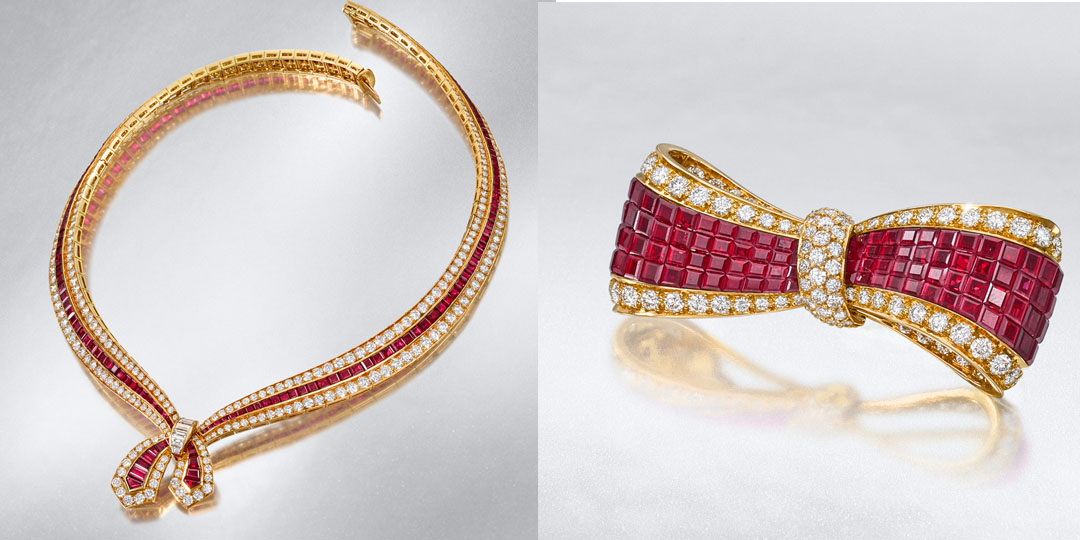 A Ruby and Diamond "Bellegarde" Neckalce by VCA circa 1990. A "Mystery-Set" Ruby and Diamond "Noeud Ruban" Brooch, by VCA, circa 1990, signed VCA, numbered M35537.
Period jewels – i.e. jewels made in the 20th century, especially circa 1900-1980, by these great names sell for high prices at auction.
– Also, increasingly sought after are "Art Moderne" jewels of the 1930s, especially those produced under the aegis of Jeanne Boivin or designed by Suzanne Belperron.
– Jewels from 1960-1970 are large, bold and gold, designed to be worn and enjoyed rather than stored in a bank vault. The likes of Andrew Grima, John Donald, Stewart Devlin, Charles de Temple, created wearable art where the value lay in their aesthetic composition rather than the carat weight of expensive diamond and gemstones.
– Artist jewellers and modern and contemporary jewellery designers also appeal to collectors. Their collection of jewellery pieces are often one-offs or produced in very small numbers and the exclusivity increases their desirability.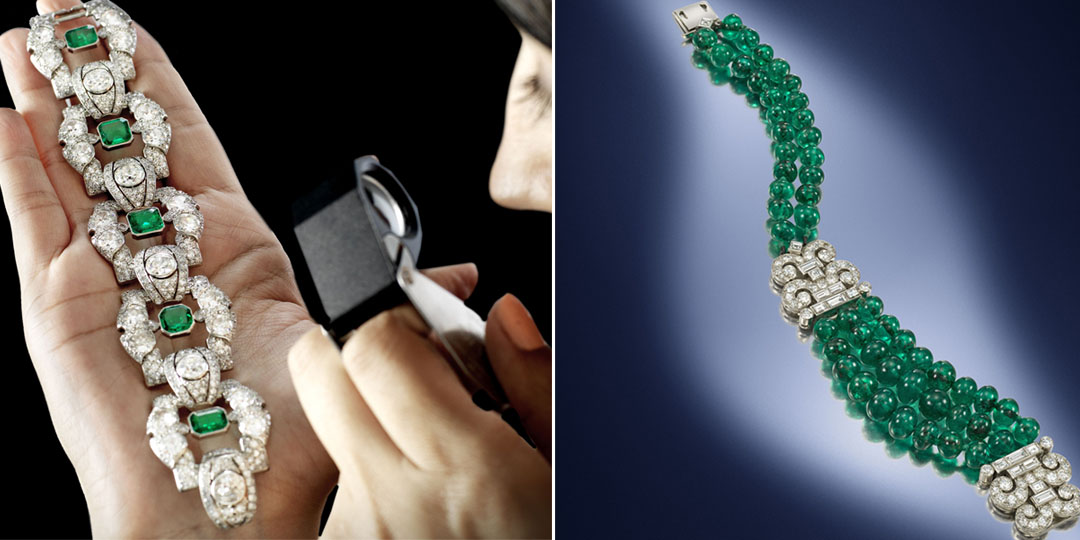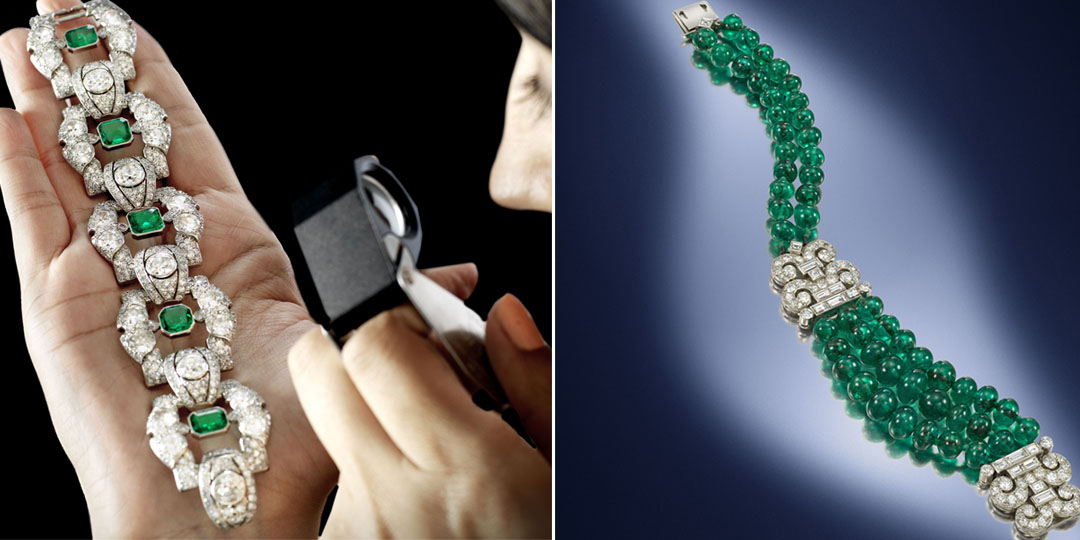 An Art Deco Diamond and Emerald Bracelet, by Linzeler-Marchak.
An Art Deco Emerald and Diamond Bracelet, by Cartier, circa 1930.
Renu: What factors must be considered when collectors want to invest in Signed Jewels?
Emily Barber: The following factors must be considered:
– Authenticity
– Condition
– Design
– Date of manufacture; particular periods and styles of jewellery design are more popular and also scarcer than others
– Provenance
– Quantity in which the jewels were produced. A unique jewel is more valuable than one made several times over
– Always refer to an expert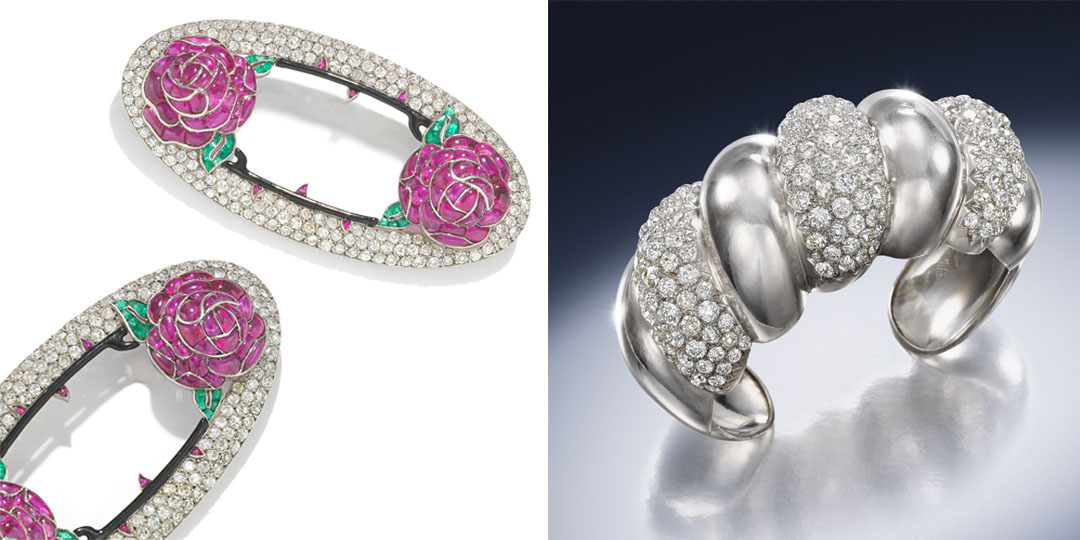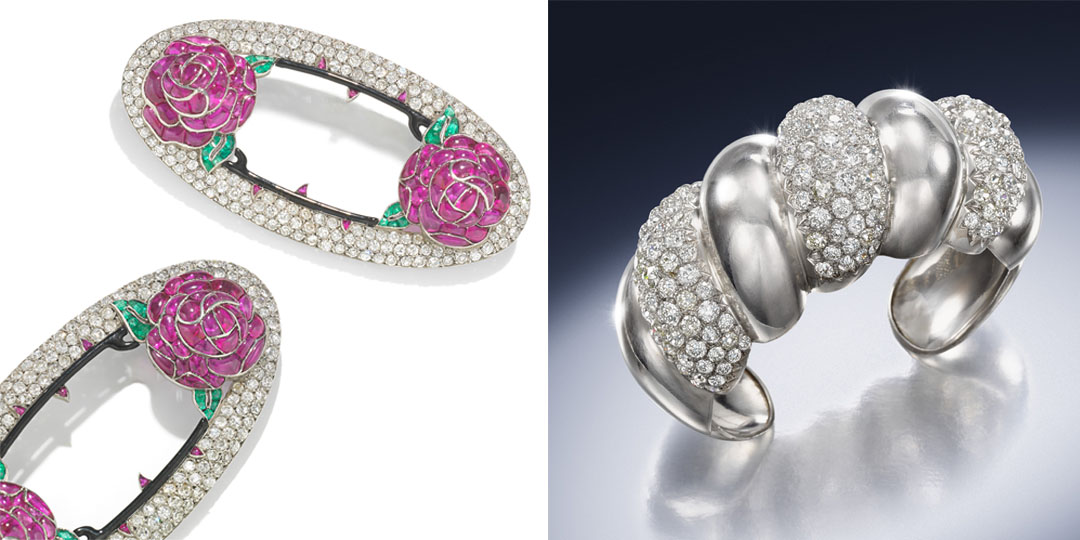 A Ruby, Emerald, Enamel and Diamond Rose Brooch by Lacloche Frères, circa 1925.
A Diamond 'Torsade' Bangle, by Suzanne Belperron, circa 1932.
Renu: Besides Auction houses where else can a collector find Signed Jewels?
Emily Barber: There are numerous specialist retailers, dealers and galleries who specialise in signed jewels. Also, art fairs such as TEFAF, Gem Geneve, Masterpiece London.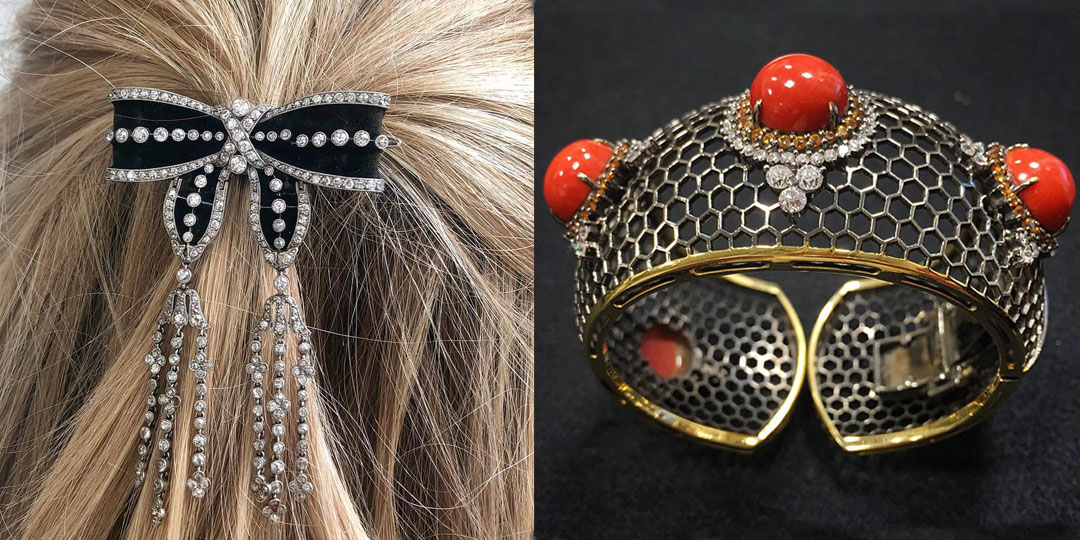 Belle Époque black velvet and diamond bow with articulated ribbon tassels, a typical design by Cartier from the early 20th century.
Laura Munder coral diamond bangle.
Renu: Does Bonhams offer a wide range of Signed jewels?
Emily Barber: Yes. We have sales all over the world – London, New York, Los Angeles, Hong Kong and Sydney and at different price points. We sell all kinds of signed jewels for different.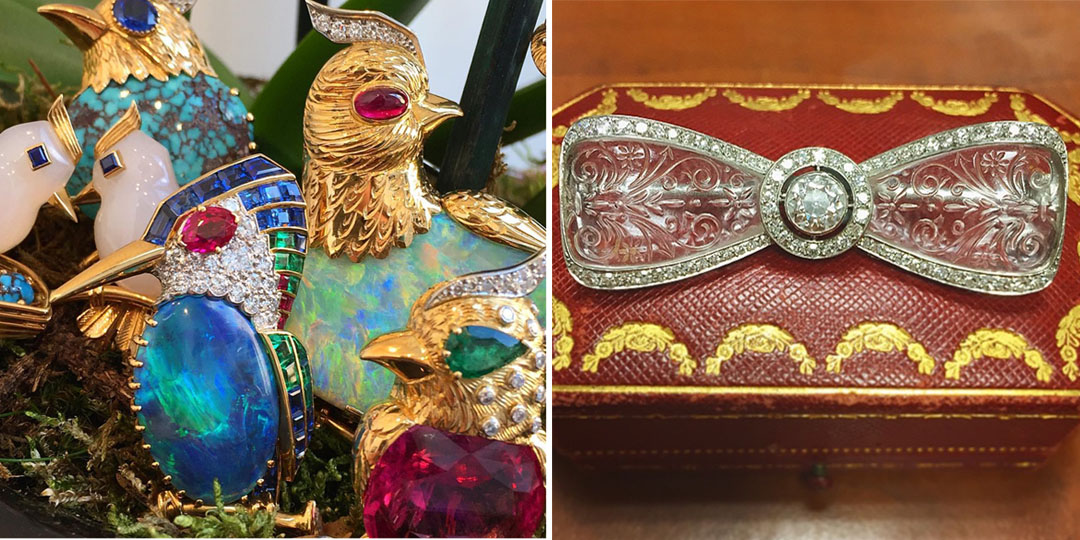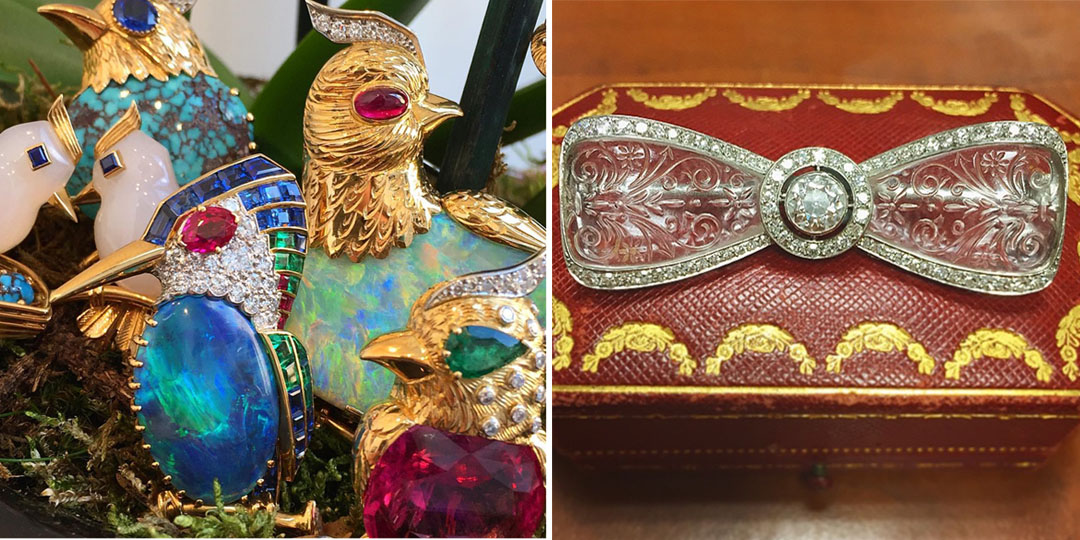 Cartier bird brooches.
Rock crystal and diamond bow brooch, with its original box by Cartier.
Renu: Future of Signed Jewels?
Emily Barber: The demand for signed jewels from our customer base has increased dramatically over the past 10 years and we feel it will continue to rise.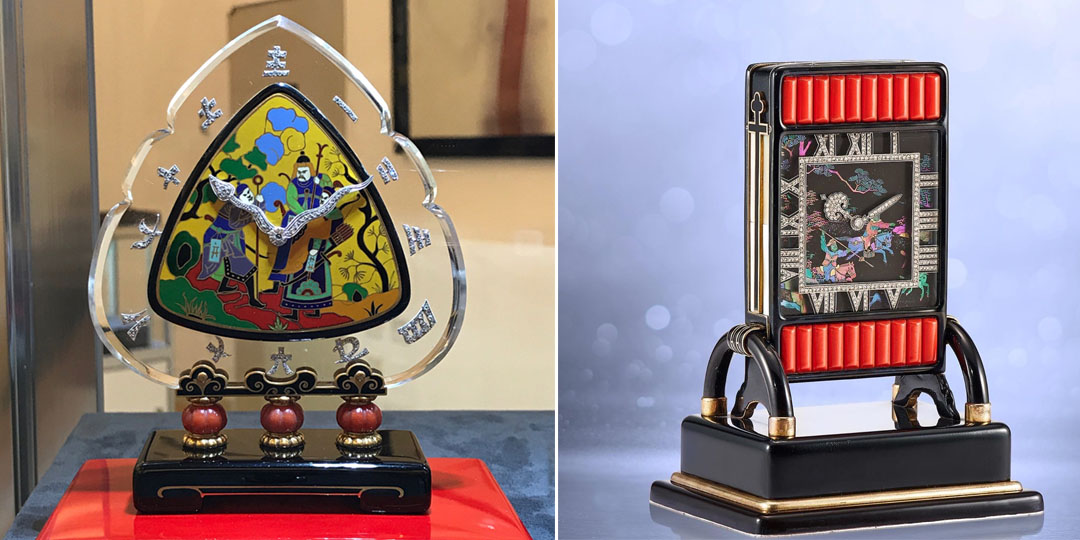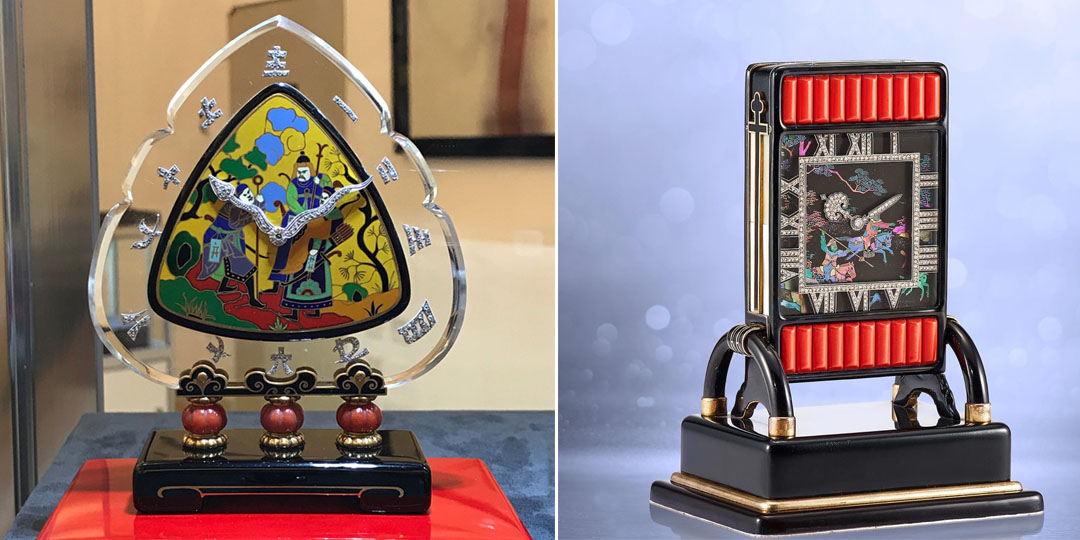 Splendid Art deco enamel and jewelled clocks by Black Starr Frost.
The 'modèle écran', by Cartier, circa 1930, using the ancient Chinese technique 'lac burgauté' incorporating insertions of delicate pieces of mother-of-pearl into a black lacquered background.
I hope it has been very insightful learning about Signed Jewels.
I would love to extend my gratitude to the entire team at Bonhams Jewels, who have been so cooperative in helping me curate this series. Thank you, Emily and Lucy, for all your kindness.